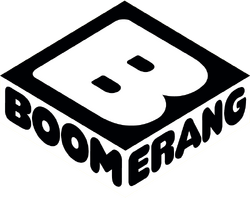 Boomerang is an American digital and satellite television channel that is owned by Time Warner through the Turner Broadcasting System subsidiary. It specializes in classic and contemporary animated programming from Time Warner's archival history, including Looney Tunes, Tom and Jerry, Scooby-Doo, and The Garfield Show, along with repeats of in-production series on its sister and another Turner-owned channel, Cartoon Network including Sonic Boom, Pokémon, and Teen Titans Go!.
Launched in 1992 globally and in 2000 for the United States, Boomerang originated as a programming block and spinoff of Cartoon Network. It eventually grew into its own separate channel and identity, and similarly shares the same brand and likeness as Cartoon Network. It has a fluid and improvisational schedule of on-off programming blocks and television shows, on a continuous schedule usually without advertising or commercialism.
Boomerang used to air reruns of Samurai Jack starting from August 3, 2009. They stopped airing reruns of Samurai Jack on June 1, 2014.