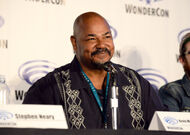 A classically-trained actor and a native of the Bronx, New York, Richardson first gained recognition as one of only eight U.S. high school students selected for the National Foundation for the Arts' "Arts '82" program. As a result of this he earned a scholarship to Syracuse University and a spot on a PBS special directed by the esteemed late John Houseman.
Richardson has usually portrayed villainous characters due to his deep voice. His credits include Captain Gantu from Lilo & Stitch,shnitzel from the hit tv show chowder on cartoon network, Goro in Mortal Kombat, the second voice of Skulker on Danny Phantom, Sarevok in the Baldur's Gate series, Jolee Bindo in Star Wars: Knights of the Old Republic, Crunch Bandicoot in two of the Crash Bandicoot games, Tartarus from Halo 2, The Joker in The Batman, Ultimate Supreme Executive Chairman Drek in Ratchet & Clank, Antauri in Super Robot Monkey Team Hyperforce Go!, Openly Gator from Queer Duck, Barney Rubble from modern-day animated series and movies based upon The Flintstones, Maurice the Aye-Aye from The Penguins of Madagascar, the unbeatable guardian of the time portal in Samurai Jack, and the voice of Exile in the late '90s cartoon Road Rovers. He often plays characters based on and satirizing comedian Bill Cosby, such as on Family Guy (with the voice of Jerome in the 7th episode of the 8th season) and The Boondocks. He is also the voice of Principal Lewis in American Dad!. He also voices Cleveland Brown, Jr. and Lester Krinklesac in The Cleveland Show. He is also the voice of the evil Shredder from the 2012 version of Teenage Mutant Ninja Turtles and Armagedroid from My Life as a Teenage Robot.
Richardson married his wife, Monica in May 2006. Currently he and Monica, live in Los Angeles with her two sons from a previous marriage, Anthony and Michael.[citation needed]
Community content is available under
CC-BY-SA
unless otherwise noted.