A Mutant Earthworm is the 4th opponent chicken Jack fought in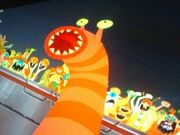 the Creature Combat Club. It's a large worm that has antenna eyes and a sucker-like mouth. Its blood is extremely toxic and can melt almost any material. It was brought out in a silver dome container.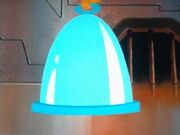 Known Moves
Burrow: The Mutant Earthworm usually travels underground.
Surface: The Mutant Earthworm surfaces from below and tries to smash any opponent.
Trivia
It's an obvious parody of (or can possibly be) the Mongolian Death Worm, an alleged creature dwelling in Mongolia which has the same properties, but the body of a Mongolian Death Worm kills by electrocution.